The Conversation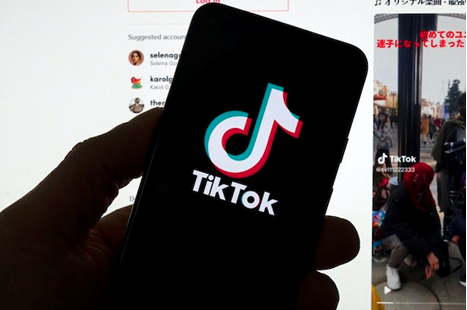 TikTok, the video social media app that's wildly popular with young people, is banned from work phones by the federal government, as well as numerous state governments and corporations. A cybersecurity expert weighs in: https://tinyurl.com/5favp8k
Fortune Education names Iowa State University one of the Best Online Master's in Cybersecurity 2023
Check out the rankings to the best online master's in cybersecurity 2023 from Fortune Education: https://fortune.com/education/information-technology/masters/rankings/best-online-masters-in-cybersecurity/


Fortune Education names Iowa State University one of the Best Online Master's in Cybersecurity 2022
Check out the rankings to the best online master's in cybersecurity 2022 from Fortune Education: https://fortune.com/education/information-technology/masters/rankings/best-online-masters-in-cybersecurity/
Two ABE associate professors named Cybersecurity Fellows
Two associate professors in the Department of Agricultural and Biosystems Engineering (ABE), Adina Howe and Kurt Rosentrater have been named Cybersecurity faculty fellows. Cybersecurity fellows will work with ISU Center for Cybersecurity Innovation and Outreach specialists to integrate cybersecurity content into courses. Read more here: https://news.engineering.iastate.edu/2022/06/27/two-abe-associate-professors-named-cybersecurity-fellows
First international cyber-defense competition links Iowa, Kosovo Iowa State University hosts cybersecurity competition with Iowa National Guard
AMES, Iowa — Cybersecurity threats are everywhere, and not having proper protections can lead to losing money, your data, or worse. Fortunately, the next generation of cybersecurity specialists are honing their skills right here in Iowa.
Read more here: https://www.weareiowa.com/article/tech/iowa-national-guard-168th-cyber-squadron-airmen-isu-competition-kosovo/524-6f4b3c83-1a6f-43dc-9469-31fef8e2d8d9
---
First international cyber-defense competition links Iowa, Kosovo campuses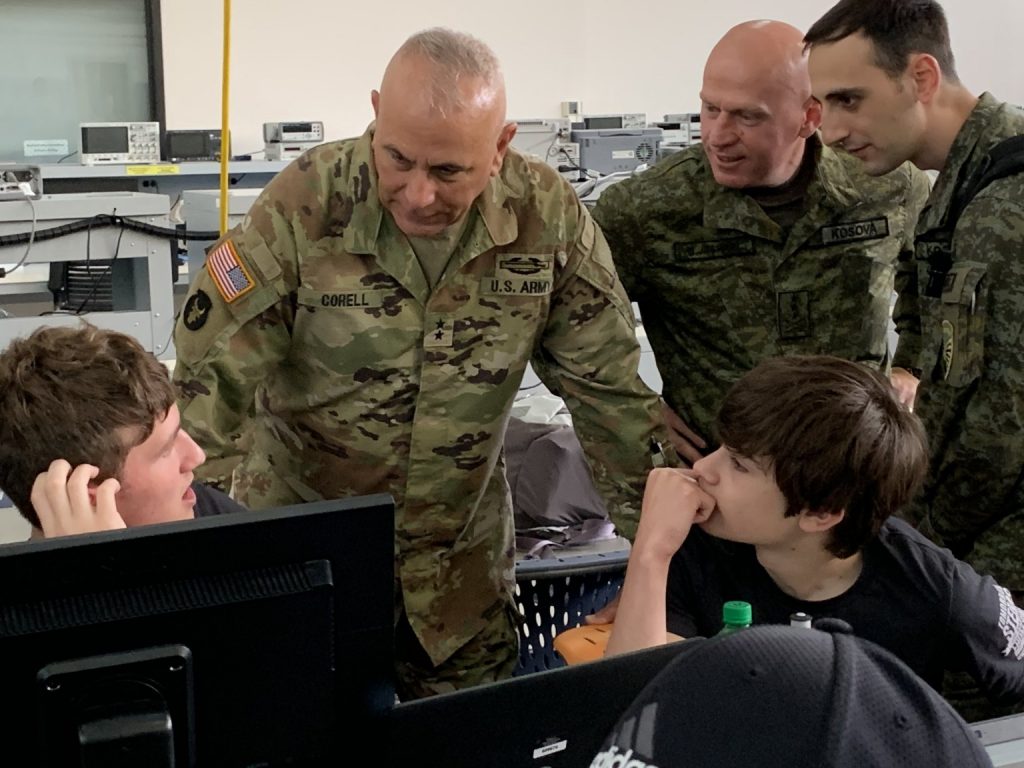 More than 150 hackers and operators participated in a first-ever International Cybersecurity Exercise on Wednesday, competing simultaneously on the campuses of the University of Pristina, Kosovo and Iowa State University in Ames, Iowa.
Read more here: https://reservenationalguard.com/reserve-guard-news/first-international-cyber-defense-competition-links-iowa-kosovo-campuses/
Waterloo (Iowa) Career Center high school students Beau Smith of Hudson and Schmitz of Cedar Falls brief Iowa National Guard commander Maj. Gen. Ben Corell and Kosovo Security Force commander Lt. Gen. Bashkim Jashari during the first International Cyberspace Security Exercise, conducted simultaneously on May 18, 2022, at Iowa State University (Ames, Iowa) and the University of Pristina, Kosovo. Photo by Randy Brown
---
Writing the Script for Cyber Security Research and Education
Doug Jacobson's leadership in cyber security research and education began before high-speed internet, smartphones and Google. It even predates the term "cyber security" itself. Jacobson, Stanley Chair in Interdisciplinary Engineering, University Professor of electrical and computer engineering, and director of the Center for Cybersecurity Innovation and Outreach, was one of the few who saw "information assurance" threats looming in the early 1990s.
Read more here: https://www.engineering.iastate.edu/research/2022/04/19/writing-the-script/
---
Student Event: "Left of Boom: Preparing the Next Generations of Defenders"
We must prepare the next generation of cyber defenders to identify threats, detect intrusions, and protect & defend cyber assets.
Join the Iowa Secretary of State for hands-on demos on election security, pen testing and internship/job opportunities!
---
Give your DOB for a free T-shirt? Be skeptical
The days of a king or queen from a faraway land sending tremendous riches for responding to an email with your bank account number are not as numerous. It's not because scammers have gone away. They are just more sophisticated.
Read more on passwords, phishing, password sniffing and what to do: https://www.inside.iastate.edu/article/2021/10/14/cybersecurity
---
Research Opportunities
See what some of our CyIO faculty and graduate students are researching: https://iastate.box.com/s/tqpdukg43h9wldrdy4g6jgti7xdtc4ky
Video recording of lightning talks: https://iastate.box.com/s/kv4c9943vhs0dzqjp44s2u4lvgdasos3
---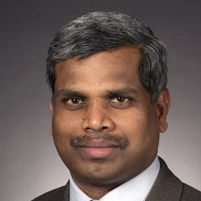 Manimaran Govindarasu announced as CyIO Associate Director of Research
Dr. Govindarasu is an Anson Marston Distinguished Professor in Engineering & Murray J. and Ruth M. Harpole Professor in Electrical and Computer Engineering at Iowa State University. He has been a part of several successful research opportunities and will continue to bring these opportunities to CyIO. He is also the principal investigator for the Power Infrastructure Cybersecurity Laboratory at Iowa State.
---
CyIO Week October 6th-9th
Each day of CyIO Week, a different focus area of the Center is highlighted through events for faculty and students. Check out the schedule below and download the flyer.